On Saturday, August 26 from 2 to 11 p.m., the Semiahmoo Fish and Game Club (SFGC) in association with Penmar Community Arts Society, is holding a live outdoor music festival to raise money to support the Little Campbell River Salmon Hatchery.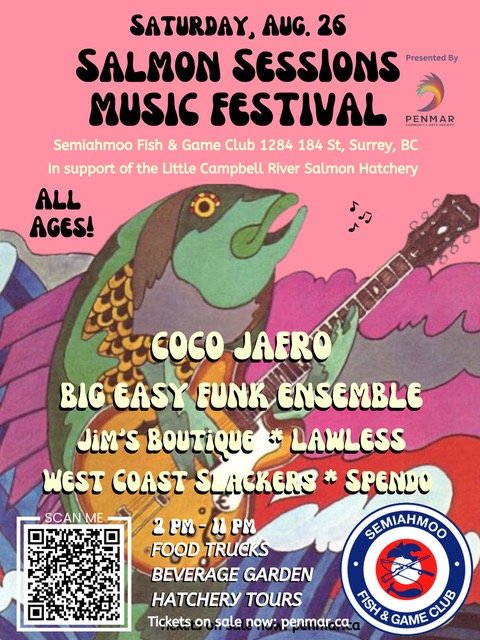 For more than 66 years, SFGC, a volunteer-run, not-for-profit society, has been dedicated to raising approximately 100,000 salmon fry each year for release into the river as well as counting and monitoring the thousands of salmon that come up stream each year to spawn. Their tireless efforts help preserve the sustainability and viability of BC's salmon population and ensuring food security for our region.
"Our volunteers are wonderful – they not only built this place but have run it for the past 40-plus years, however, we now face a crucial challenge. Our existing hatchery building is nearing the end of its life cycle, and we urgently require a new facility to continue our essential work, says Diana Barkley, SFGC President. "While the Department of Fisheries and Oceans, the Pacific Salmon Foundation, the Freshwater Fisheries Society of BC and the Rotary Club of White Rock have been incredibly supportive for this building project, additional funds are still needed to achieve our $200,000 financial goal (for Phase 2)."
To rally the community in support of this critical endeavor, a fun day of music is planned for August 26 from 2 p.m. to 11 p.m. This day of celebration will be hosted at the SFGC's scenic hatchery location (1284 184 St, Surrey, BC V3S 9R9). It promises a fantastic lineup of live local BC bands, delectable food trucks, and a vibrant beverage garden.
"Thanks to the generous contributions of the Penmar Community Arts Society, we have covered most of the event costs, ensuring a memorable experience for all attendees," says Barkley.
Bands performing
Coco Jafro
Big Easy Funk Ensemble
Jim's Boutique
Lawless
West Coast Slackers
Spendo
Ticket prices
$10 for Children 12 and under;
$20 for Children 13 – 18;
$40 for Adults (19+);
$100 for a Family Pass (2 Adults and 3 Children).
Special Donation Pass
$100 which includes an Adult ticket ($40) plus a tax receipt for $60
To purchase tickets, please visit Salmon Sessions – CanadaHelps
Event Highlights
Live Music: Enjoy the sounds of rock, country, and funk performed by six outstanding live BC bands on an outdoor stage.
Food Trucks: Savor a diverse range of culinary delights from local food trucks, catering to all tastes.
Beverage Garden: Raise a toast to a great cause with an array of beers, wines, cocktails, and non-alcoholic options.
Scenic Atmosphere: Settle in with your lawn chair and blanket on the concert lawn, near the picturesque Little Campbell River.
Guided Tours: SFGC's dedicated volunteers will be on hand to guide you through the hatchery facilities and share insights into their crucial conservation efforts.
Barkley says the rebuilding process has already begun as the building plans were submitted to the Surrey planning department in April. "We're optimistic about receiving our building permit by year end. With your support, we aim to break ground early 2024 and continue to safeguard BC's salmon population."
Please join the SFGC for a day of camaraderie, music, and awareness as to help preserve the environment and ensure the future of this beloved salmon hatchery.
For more information and to purchase tickets, please visit Salmon Sessions – CanadaHelps.
For more information about the Semiahmoo Fish and Game Club – sfgc.info